Dear Classmates:
I think you will all agree that our time and experience we all shared at the American School was at a unique moment in history, that as we look back now, we realize how truly lucky we were then and are today. On top of that, the students that attended the American School were from all parts of the world, religious backgrounds, ideals and had great appreciation of the Arts. A small group of us were gifted with special talents in the arts and music; Henry Urquidi, Patty Valero, Dave Goodrich to name a few. One of our classmates in particular that I personally had no idea of her great talent, is presented here: The one and only Leslie Zaidenweber. I'm soooo proud of her!!!!
Enjoy!
Leslie Zaidenweber
"Viva Mexico" AHS 40th Reunion Poster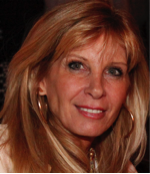 Lesliezaidenweber@hotmail.com
Lesliezaidenweber.com
As many of you may or may not know, Leslie Zaidenweber (Class of 77), due to her artistic talents, was commissioned by the reunion committee to come up with the "Poster" that would embody our 40th class reunion to be held in Mexico City, Sept 8th-10th, 2017. The reunion theme as you well know is "Viva Mexico". Those of us who knew Leslie, never imagined she had a hidden artistic talent and I share with you today the inspiration behind the paintings. As you will agree, the paintings are ABSOLUTELY INCREDIBLE!!!. Painting of this magnitude take a lot of time, thought and effort and I would encourage you to let Leslie know your appreciation and gratitude for these amazing pieces of art.
As the old saying goes : "A Picture is Worth a Thousand Words"!!. What do YOU see??
Who do you recognize in the painting of our classmates and in the one with the two girls sitting on the car?

What subtleties and message do you find in Leslie's art?
This is what I see:
I see humor, fun, and some old timers that have unconditionally continued to share their friendships and love with all of us. Best of all, our fabulous women AHS'ers that epitomize the beauty and strength of our class that represents the backbone foundation that was built many years ago and continues strong to this day and without them, we would have nothing. Lastly, "Eggers " which I think -"La Hueva" is an undeniable physiological and psychological spirit that we have all experienced then and to this day, a mutual commonality that only WE, los Cuates will understand: LOVE IT!!! Fuerte Abrazo a todos and an absolute congratulation to Leslie Zaidenweber for her love, time, passion, dedication and artistic talent to this significant contribution for our 40th reunion: I'm in AWE and so will YOU!!
Mark Maldonado 77
Leslie's comments………..
Para mí el Colegio Americano es donde las amistades continuarán mientras los recuerdos de aquellos maravillosos pasillos llenos de colores sigan dentro de nosotros.
Aquella etapa donde la libertad, el amor , las travesuras y los sueńos, ocupaban día a día nuestros pensamientos...en la cual aprendimos el valor de la amistad, de la lealtad, del respeto...de la pasión por descubrir, por aprender.,....por vivir.
Donde aun permanecen en nuestros recuerdos aquellos días de pinta, fumar en los baños, esquipiarte la clase,buscar tréboles de 4 hojas, Coach Colman, nuestros primeros amores,los amigos casi hermanos, las diferentes culturas que tanto nos enriquecieron, the " Egger", palabra exclusiva del Colegio Americano, y las 2.30 PM...aquella ultima campanada del dia...Por esos momentos en la vida...Viva Mexico cabr....!!!!
Thank you Mark, for giving me this wonderful opportunity to share my memories.
Leslie Zaidenweber 77