Announcement #3
March 2022
Dear Classmates:
Reunion tickets officially went on sale end of January and we are off to a great start. Check out the updates on Entertainment, Tickets, Hotels and Airfares.
Entertainment:
I am pleased to inform you that one of our own, from the Class of 77, Leticia Stewart Davies and her sister will be playing a few songs for us Saturday evening as the opening act prior to Beginnings.
Leticia has spent her career dedicated to music. She was signed to the Blue Rose Record Label in 1994 and toured the UK, Ireland and Northern Ireland, Europe and the United States until around 2001. As a result there are 2 albums, an EP and a single.
She has taught music in preschools and elementary schools and ran her own music school since 2006 called Miss Leticia Music School. The school offers lessons for all ages in ukulele, acoustic and electric guitar, bass, drums, vocals, rock band, and summer camp.
Reunion Ticket Update:
When the reunion committee started planning this event last year, we estimated that a total of 75 attending was a reasonable goal. Well, given how we are progressing thus far, we have increased our targeted goal to 100+. In order to achieve this goal, we have to keep on a pace of selling ten tickets or more a month.
Tickets went on sale in January, and I am please to tell you we have already sold (34) tickets and still have 8 months to go. We are one third the way there, so I am reaching out to those that are on the fence or have not purchased their tickets to do so to keep this momentum going. Within the (34) committed, we have three that will mark their first ASF reunion: Leticia Stewart Davies, Juli Tudor and Renee Koch!!!!
Hotels:
As you all know by now, COVID travel restrictions and mask policies are loosening for the better. This also means that more people will be traveling this year. The height of the tourism season in Mérida starts November 1st and extends through March when the weather is ideal. This year "Dia de los Muertos" will be celebrated on November 2nd which is a huge event in Mérida. You should consider to arrive early to experience this once a year spectacular event. This also means that hotel rooms will be scarce. Please consider booking your hotel rooms soon. All the hotel information is posted on the website tab under "Click here for Hotels".
Air Fares:
For US classmates booking flights to Mérida first see if it is less expensive to fly in and out of Cancún. If it is, you can take a bus to Merida which is a straight shot between 3 to 3.5 hours. If we get enough classmates from the states flying into Cancún, we can arrange transportation to pick you up at the airport.
If you do this, please email me(markrafaelmaldonado@yahoo.com). The challenge will be to coordinate the times everyones flight makes it into Cancún so we can arrange one bus pick up or two.
Passport:
It appears that the 6 month rule while entering Mexico no longer applies BUT you need to check with your airline to be 100% sure. This restriction has been changing often. Having said this, DO make sure that your passport is not on the verge of expiring.
Hasta la próxima-
Fuerte Abrazo,
Mark Maldonado-Reunion Chair
45th Reunion Announcement #2
Ticket Prices, Hotel and Entertainment
First, Happy New Year to all of you and hope you enjoyed the Christmas holidays with friends and family.
Ticket Prices:
The website (www.ahsclassof77reunion.net) has been updated and you can now purchsed your reunion tickets. This years ticket prices are $350US per person. Please try your hardest to make both events as it will help us manage the weekend better and provide the catering company an accurate count of the meals. If you plan to stay for both events, ticket prices include Friday night and Saturday night including bus transportation to and from the Saturday night event at the Opichén. We have not planned any transportation for Friday night because the event is within a 5 minute walk from your hotel.
Hotel: Contract signed between Eventology(our rep) Carlos Gorbea and Fiesta Americana Rámon Trueba Rodriguez
Our preferred hotel is the Fiesta Americana in Mérida. To book your stay you have two options: 1) CALL THE HOTEL FOR FURTHER DISCOUNT OR 2) BOOK ONLINE. The reunion committee has been diligently trying to work with the hotel to seamlessly make it easier for you to book online with the discount, but we are having technical challenges with their IT group. So here is what you do:
1) Booking Online: To book online, go to the Fiesta Americana Merida website and book your reservations. The price is currently discounted at $158/US plus taxes for a single room but does not include taxes and breakfast.
2) Call the hotel directly. From the US you would dial 011-52-999-942-1111. From Mexico, see the numbers below. By this approach, you will receive a further discount based on the contracted prices below. You will need to give them the discount code " Grupo Eventology" and book your reservation. For a single room, the rate should be approximately $157.36/US.
Since November is the beginning of the tourist season, we recommend you book your stay as soon as possible. I will be announcing a back-up hotel in our next announcement with the Hyatt Regency which is across the street from the Fiesta Americana. If you have further trouble, please let me know.
Single $2,797 pesos per night. Includes buffet breakfast and taxes
Double: $3,249 pesos per night. Includes buffet breakfast and taxes
Please note that group pricing starts from Oct 31st and concludes November 6th.
Reservations calling from Mexico City: 55-5326-6900
Reservation calling from the Interior of Mexico: 800-50-450-00-lada sin costo
Reservation calling from the US: 02112-52-(999) 942-1111
"Beginning" A Tribute to the Music of Chicago:
The band has been booked and are super excited to come play for us. They recently played for the New York Giants football team, corporation and owners to over 300+ attendees over the Christmas holidays and was a major hit. You can review their setlist by clicking on the Beginnings tab at the top page. You will not want to miss this event!
Trio Perla Del Mayab
On Saturday during our ice-breaker cocktail hour, we have booked the best trio en Mérida that will entertain us with Yucatecan music before the main event.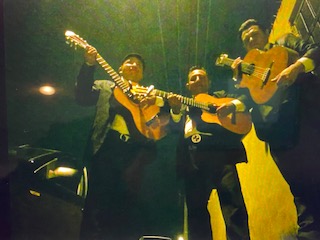 Marquesitas:
For all of you to further enjoy the treats of Mérida, we have hired a Marquesitas vendor exclusively for us so you can try this amazing, delicious local desert treat. Its a wrapped wafer in Holland cheese that is over the top delicious.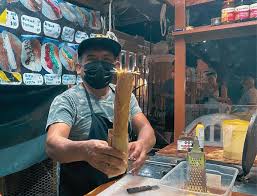 So its now time to reach out to your cuates and inform them of this planned event that will be epic. If you have any questions, please do not hesitate to reach out to me or any reunion committee member.
Fuerte Abrazo,
Mark Maldonado
Reunion Chair