"Beginnings" A Celebration of the Music from Chicago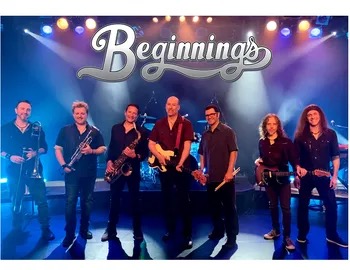 I am pleased to inform you that the New York based band "Beginnings" will be performing a two hour concert for us at the main event Saturday evening.The group just played for the New York Giants football team, family and corporation including owner Michael Cohen. They have been playing Chicago music for over 30 years, note for note and several of the 8 piece band members are Grammy awarded players. It took a tremendous amount of negotiations and logistics to pull this off, but I'm sure you will enjoy the performance. It should remind most of you of your first concert back in the early 70"s when Chicago came to Mexico City. I have also listed the setlist that you can ahead of time listen to some of their songs.
Setlist:
Introduction Lite (3:20)
Smile/Does Anybody Really... (6:41)

Old Days/Alive Again (5:36)

Dialogue Pts. 1 & 2 (5:20)
Lowdown (3:50)

Just You And Me (4:34)
Baby What A Big Surprise (3:06)

Call On Me (4:13)
Skin Tight (3:40)

If You Leave Me Now (3:58)
It Better End Soon (3:05)
Searchin' So Long (5:10)

Beginnings (6:50)
Questions 67 & 68 (4:54)
Wake Up Sunshine (2:40)
You're The Inspiration (4:33)

I'm a Man (4:30?) Free (4:49) (9:19)
Wishing You Were Here (4:37)

Feeling Stronger Every Day (4:31)

Saturday in the Park (3:45)

80's Medley (11:08)

Colour My World (3:00)

To Be Free / Now More Than Ever (2:41)
Encore: A Surprise!!!!
OFFICIAL WEBSITE: www.beginningslive.com
FACEBOOK: www.facebook.com/BeginningsTributeBand
INSTAGRAM: www.instagram.com/beginningstribute/
TWITTER: twitter.com/Beginnings_Live
YOUTUBE: www.youtube.com/channel/UC5525O46vGYWFlpxIkg1xvw
Band Member Names:
Patrick Bush - Manager
Douglas Woolverton - Trumpet
Daniel Hendrix - Trombone
Lenny LaPinta - Woodwinds
Scott Chasolen - Keyboards
Ryan Ball - Guitar
Chris Milillo - Drums
Jay Levine: Lead Singer